Gilmore Girls
Gilmore Girls: The Four Seasons, Ranked — Vulture
By
|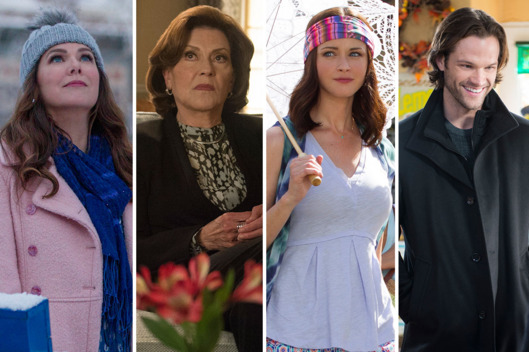 Spoilers ahead for Gilmore Girls: A Year in the Lifestyle.
Whatever else you feel in regards to the new Netflix time of Gilmore Girls, it's unquestionably uneven. You'll find highlights. You can find a few bits that are rocky. There's the sentence, which should possibly be regarded as independent in the remaining episode, although which is certain to be divisive. Here, then, is the way the four seasons breakdown, from bumpiest to most worth the traditional Gilmore Girls.
4. Spring
The year of Gilmore reaches its greatest when it feels easily like it self in the older times, or when it dives to the complex psychological realities of where the figures are now. "Spring" does the least of either of these things. Emily and Lorelai's try at family treatment is annoying for precisely this purpose — it feels feels as though it should lead into a moment where they grapple with their Inter family dynamic, but but rather it just … fizzles. Luke's franchise hunt with Emily is somewhat more efficient, enlivened by the chemistry between Emily and her intense industrial real estate investor.
But on the whole, the threads in "Spring" sense also disconnected from the larger time. Paris has an incredibly watchable melt-down stressing that she's still in love with Tristan, but that plot goes no where. Rory's guide task falls aside, without all that much to do. And in the conclusion, our indicator of Rory's slipping manage on life is that she's a one-night-stand with "a Wookie," and her reaction appears to be more about how she should be experience than any psychological traumatization she actually evinces. It's most piece-meal of the four entries, the baggiest. However there's a new "Film by Kirk," therefore there's that.
3. Summer
Summer in A Yr in the Lifestyle is the period of "almost, but perhaps not quite." As Rory becomes mo-Re adrift in her profession, she moves after dark regrettable, clichéd very cheap of sleeping using a Starwars character and is compelled to confront even more meaningful truths about her li Fe. With Jess, of program. (Of course.) This feels just like an action in the proper direction on her behalf character, but gags such as the "30-some thing gang" maintain the display again from giving Rory the depth that might actually talk actual drama for her. In parallel with Rory's slow lurch toward self knowledge, Lorelai and Emily do the sam-e. Emily's bit using the the wrong gravestone feels feels as though some thing straight from the authentic episodes, but at precisely the same time Lorelai's require to locate herself feels a tiny out of the blue.
"Summer" is the installment together with the strongest, funniest, most Stars Hollow-iest bit: Stars Hollow: The Musical, which is hilarious and amazing (and also 50-percent too extended). Sutton Foster and Christian Borle are delightful, and the so-Lo amount Foster sings in the conclusion is everything I skip regarding the unapologetic, overt theatricality of Bunheads. On another hand, "Summer" is also the installment with the worst jokey Lorelai and Rory bit: every-thing to do with them in the pool, but especially their insistence on pointing out who appears poor in a swimsuit. Just … why?! Who considered that was an excellent idea?
2. Winter
There are some pieces of "Winter" that don't automatically land with 100% certainty. Kirk's Ooo-ber enterprise is forced; the scene with Lorelai and Luke probably choosing a surrogate feels excessively out-of-character for them both (in spite of Paris's an average of outstanding efficiency and killer new hair cut). It also suffers from a hefty dose of nostalgia nudging — around every corner, a "Hey, appear, it's that character again!" lurks, waiting to wink a-T you with an insidery joke along with a plucky guitar riff.
But "Winter" also h-AS a number of the season's strongest substance, particularly in regards to Richard Gilmore's dying (and the instigating dying of Ed Herrmann, who performed him). The entire prolonged flash-back sequence, you start with with Richard's funeral and continuing through Lorelai's disastrous tale in the wake, is Gilmore through-and-through, with the actually-fraught connection between Lorelai and Emily in the forefront. The followthrough is similarly efficient, with Emily attempting to Marie Kondo and sporting denims her mansion. It's one of the new season's best samples of of replicating what created the unique series function s O nicely — a foolish, wryly humorous veneer laid over actual human emotions.
Plus, "Winter" h AS the season's most readily useful winking meta-essential joke – after years of followers and critics complaining about Rory's boy-friend, "Winter" offers us Paul, the Ann Veal of Rory's love li Fe.
1. Fall
"Fall" isn't ideal. First, the last line — it's such a swerve from what comes before that it ought to be regarded an individual problem from your episode's other strengths and weaknesses. In its protection, I I want to to observe that that there's a robust custom of gut punches at the conclusion of Gilmore seasons, heading back to Christopher choosing to go straight back to Sherry by the end of period two and Richard and Emily's separation at the conclusion of period four. This is diverse, demonstrably. But like it or perhaps not, it's keeping in mind using the Gilmore way of operating. Just what exactly makes the remaining episode powerful enough to be rated in the top?
The three Gilmore women are mostly on their own, which is somewhat less-successful for Lorelai, and functions very well for Emily and Rory. Rory's Existence and Death Brigade journey is pure, unmarred fantasy in an in a fashion that that feels mo-Re unmoored from psychological consequence in relation to the initial series actually was. However, this present does fantasy very well, and Logan and Rory's connection comes off as the easiest and plausible chemistry of any other passionate inter-action in the period. Emily's continuing quest to locate herself after Richard's dying ultimately prospects her to cast-off the shackles of the DAR in a glorious, merciless smack-down similar to a related rant aimed a T Shira Huntzberger from the first series. And I can-not inform you exactly how much I adore Whaling Museum docent, Emily Gilmore. Those kiddies don't have any idea what they're in for.
Lorelai's research for herself isn't terrible, even though the recurring jokes about Wild didn't automatically land for me personally. What it mostly is, like also much with this season, is just also lengthy. So packing of back-packs. A great number of false starts. She required to find that epiphany just a tiny bit quicker. Once she does, though, the episode sees and issues belong to location. The time ends with a few overt, schmaltzy Gilmore sentimentalism, total with Lorelai's blessing of Rory's memoiristic manuscript, Sookie's reunite, and the fairy-land wedding. It's unquestionably saccharine. But it hits every one of the proper psychological notes, and there's some strong ragging on Steely Dan.
Source
http://www.vulture.com/2016/11/gilmore-girls-four-seasons-ranked.html